United Leader Tech is able to provide customized service, as well as simplify the entire manufacturing process, using different industrial parts and components through injection molding processing. With a scientific forming method, we are working to manufacture products of different sizes, from miniature to large-scale, as well as multicomponent products. The latest technologies such as insert molding, injection molding, bicolor/heat runner system, and automatic integration, are used in the manufacturing process, as well as different engineering materials, including polypropylene, olefin, and nylon. These high performance materials allow us to meet the requirements in smart home display screens, remote control, automobile, electron, and other industries. Injection molding machines from FANUC and Dongyang feature excellent stability, with their injection speed ranging from 0 to 500, which offer us the ability to meet the requirements for manufacturing high precision products. The precision of our products is limited to +/-0.005mm.
The appearance and size are strictly controlled according to the specified manufacturing techniques and SOP, SIP files. Only after samples are approved by the client, will we start the manufacturing process. Even during the manufacturing process, we will carry out periodic checks on the injection molding technology, and compare our products to the samples to ensure their high quality and high stability.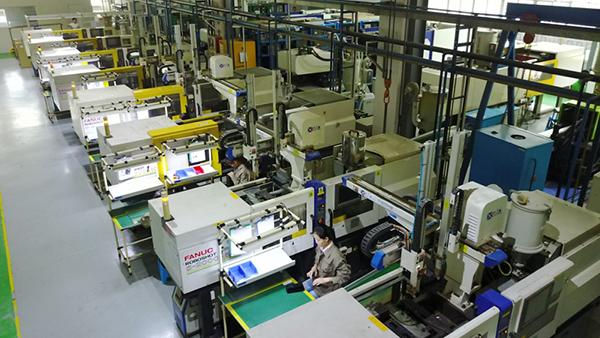 Plastic Injection Molding Workshop
Our company has 13 injection molding machines, ranging in capacity from 50-320 tons. Due to the requirements towards injection products, we also own matching manipulators, desiccant dryers, in-mold monitoring equipment and other machines that can fully satisfy the needs towards production quality and automated production.
About our machines:
1. Injection molding machine
Brands: FANUC and Dongyang
Advantages:
l High-speed stability, with its injection speed ranging from 0 to 500.
l Unmanned operation can be completed with the help of a manipulator
2. Desiccant dryer
Brand: DRYER
Advantages:
l Dry the raw materials
l A high moisture extraction rate helps to avoid excessive moisture and related problems in the products.
3. In-mold monitoring
Brand: Hanggui Visual
Advantages: All movements within the mold can be monitored during the automatic production. Any faults will lead to an automatic shutdown of production, ensuring the safety and quality of all production procedures.
Examples of our work:
Intelligent transformer switch
Structural components
Infrared remote control housing
Injection molded products that we have offered:
· Home Appliance Enclosure
· Plastic Brackets
· Control Panel
· Curtain Track Components
· TV Remote Controller
· Air Conditioner Controller
· Heater Controller
· Game Controller
· Home Wireless Router
· Plastic Toys
· Plastic Cup
· Headphone Stand
· Plastic File Folder
· Electronic Enclosure
· Plastic Storage Box
· Plastic Storage Shelves
· Telephone Housing
Contact us if you need more information about our service on injecting molding.